Venise Wagner is an associate professor of Journalism at San Francisco State University, where she has taught since 2001. She has a 12-year career as a reporter for several California dailies, including the Imperial Valley Press, The Modesto Bee, The Orange County Register, the San Francisco Examiner and the San Francisco Chronicle, covering border issues, religion and ethics, schools and education, urban issues, and issues in the Bay Area's various black communities. She has a bachelor's of science in Chemistry from the University of Illinois, Champaign-Urbana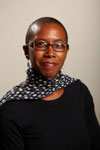 and a master's of arts in International Policy Studies, with an emphasis in Latin America, from the Monterey Institute of International Studies. She speaks Spanish and is learning Turkish. In much of her work as a journalism educator, Venise integrates cultural proficiency and intercultural communication in the curriculum as a way of enhancing students' ability to write across a variety of cultures and experiences outside of their own.
Venise is currently working on a book, "Tracking Opportunities," with colleague Sally Lehrman of Santa Clara University. The book provides journalists and journalism students with tools and reporting strategies to improve coverage of structural inequities that lead to racial disparities. Venise is also the author of "Love in the Time of Pinochet," available as an ebook on Amazon.
For details about booking Venise for speaking engagements click here.